Legally I can't say I'm the Best Accident Lawyer in Pennsylvania...
But if you want an attorney who will put your best interests before anything else, then look no further.
Comerota Law PC is a Wilkes-Barre/Scranton Pocono personal injury law firm committed to helping victims of car accidents, medical malpractice, nursing home negligence, serious or debilitating injuries, as well as the families of wrongful death victims in Pennsylvania.

Attorney Comerota is devoted to protecting your interests and handling your case with personal attention. Whether you have been harmed at work or a family member has sustained long-term damage from negligent hospital care, he will fight for your recovery with compassion and aggressive advocacy. For over 11 years, Attorney Joseph Comerota has successfully represented clients throughout Eastern Pennsylvania who have been accidentally injured through no fault of their own.

Knowledge is Power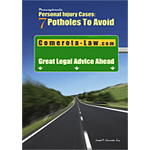 Lawyers don't like to give out free legal advice - but I want to empower you with knowledge. I want to help you understand the legal process if you sue someone, to help you understand how the insurance companies operate and to teach you the steps you can take to protect yourself and your family if you've been injured in an accident. This is why I wrote my book "Personal Injury Cases - 7 Potholes to Avoid" - and best of all it's free for Pennsylvania residents. There are no hidden costs or shipping fees - just tell me where to send it and I'll personally mail it to you for free!


3 Easy Ways to Find Answers To Your Legal Questions
Call

570-408-9880

for your free consultation.
Use the Live Chat box or send us a confidential email.
Order our book, "Personal Injury Cases - 7 Potholes to Avoid".


Your Questions Answered & Your Legal Options Explained
At Comerota Law, P.C., you'll receive honest and direct answers to your questions. You can call to schedule a FREE legal consultation or you can visit our online personal injury research center and learn about some of the laws in Pennsylvania that may affect your case. Or, you can order Pennsylvania's ultimate consumer accident book, written by our founder, Joseph Comerota.
We believe that a quality client experience is a critical part of getting results for you. See why so many people call themselves satisfied clients. Attorney Comerota will personally answer your legal questions and explain your legal options.
FREE Personal Injury Legal Consultation

Contact us now for a FREE legal consultation regarding your case. We have resources in Scranton, Wilkes Barre, Hazleton and the Pocono Mountain Region to serve accident victims all over Pennsylvania.
Yes, we can even arrange to have someone come to you if you are unable to visit one of our locations.